Knife Edge Gate Valve Supplier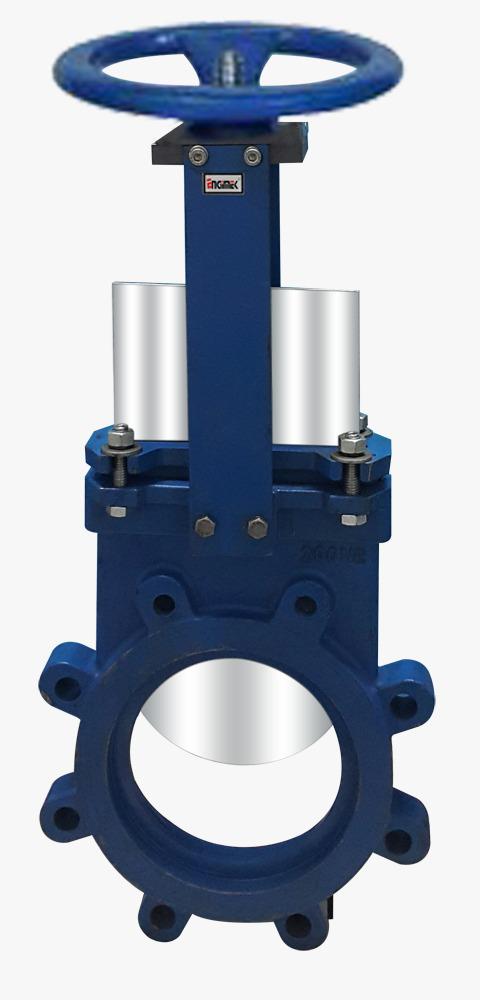 Inquire Now
We are counted as one of the leading Knife Edge Gate Valve supplier, manufacturer and exporter in India. Backed by an expert team of dedicated professionals, we offer all type of Industrial Valve with great performance and high durability. Our each and every industrial valve is made as per the perfect dimensions given by customer. They offer smooth operation, consistent operation and require minimum maintenance. Further, we use super quality grade material and modern machineries to provide product as per latest industrial norms and standards.
Working of Knife Edge Gate Valve
These valves have the ability to cut through solids-filled media. They operate by elevating a circular or rectangular gate out of the media's path. Knife edge gate valves are frequently employed when a straight-line fluid flow with minimal restriction is required. The sealing surfaces between the gate and seats are flat. These valves were created with the pulp and paper industry in mind. Stringy pulp impinged between the wedge and seat of a standard gate valve, blocking flow shut-off. Knife edge gate valves allow thick media to flow freely over soft seals without causing any obstruction. The material is chopped up as it passes through the valve, which is how they work. Knife edge gate valves are now employed in a variety of processing plants across the world and available in a variety of sizes.
Knife Edge Gate Valve Application
Sludge and slurry applications benefit from knife edge gate valves because their blades quickly cut through heavy liquids. Knife gate valves are typically specified in higher sizes to handle thick flows of heavy oils, light grease, slurry, paper pulp, varnish, and wastewater, to name a few. Low-pressure knife edge gate valves are designed to seat the blade into a soft seal with minimal disruption.
Advantages of Knife Edge Gate Valve
Allow free passage of the medium
Operates effectively in difficult situations
Sealing elastomer cartridge seats that can be replaced
Tight shut-off
No leakage
Useful with high-density fluids
Harsh applications that work
Valve dismantling is not required for seat replacement
Applicable in high temperatures
Effective for corrosive application
Difference Between Knife Edge Gate Valve & Gate Valve
The knife edge gate valve frequently includes a sharpened disc to effectively cut through slurry/viscous material, which is one of the major differences between the gate and knife edge gate valve. In addition, compared to a gate valve, which is dimensionally broader, the knife edge gate valve has a shorter face length. As a result, as compared to a gate valve, a knife gate valve is much lighter. These are the primary differences, as well as two of the most significant advantages of Knife Edge Gate Valve. Knife edge gate valves are used in sewage treatment plants, chemical, mining, cement plants, and a variety of other industrial applications, whereas gate valves are used in drinking water mains, distribution networks, and pump stations.
Reputed Knife Edge Gate Valve Supplier
Our offered knife edge gate valves are highly appreciated by customers for their compact design, accurate dimension, corrosive resistance feature and user friendly interface. Our industrial valves are available at various specifications and dimensions. They are used to fulfil various industrial and commercial applications such as irrigation system, industrial system, sprinkler system, heating and cooling devices etc. As a leading Knife Edge Gate Valve supplier and manufacturer in India, we are offering these valves at market leading prices.
Knife Edge Gate Valve Features
Accurate Dimension
Compact design
Durable body
Excellent performance
Reliable operation