OFF-SET Disc Butterfly Valve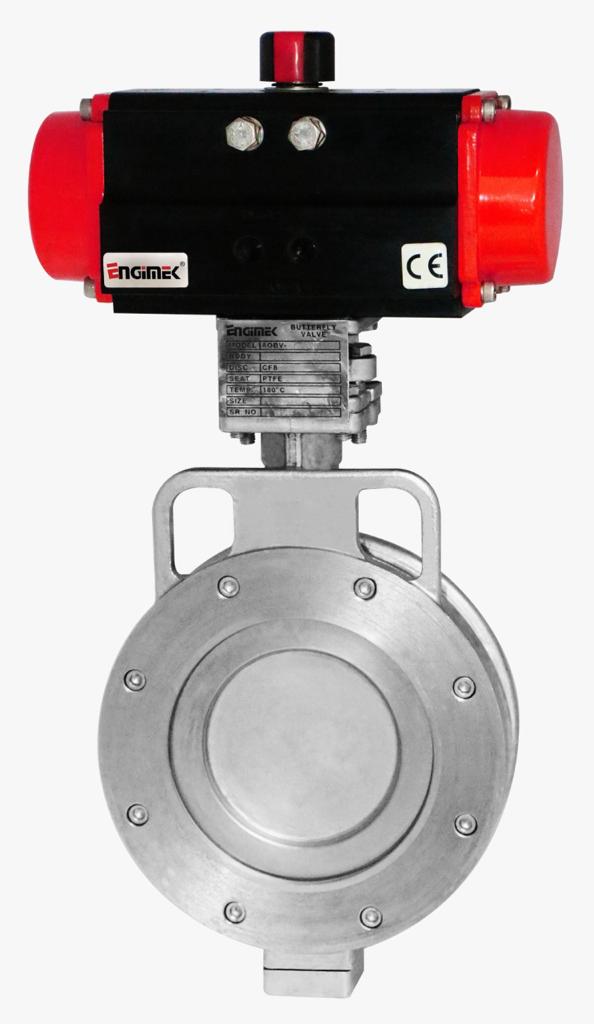 Inquire Now
Adhering to international standards, production process and methodologies, we are a name to reckon with. We are offering a qualitative range of Pneumatic Offset Disc Butterfly Valves to customers.
Pneumatic Butterfly Valve is a valve which can be used for isolating or regulating flow. The closing mechanism takes the form of a disk. Operation is comparable to that of a ball valve that permits for fast shut off. The operation of Pneumatic Butterfly Valve is similar to that of ball valves as both have a easy to shut mechanism. The lowest pressure rating valve made with the flexibility of rubber is known as 'zero-offset Butterfly Valve'. The Pneumatic Butterfly Valves have been used since the 18th century and has replace ball valves in a lot of industries.
Engimek is a manufacturer and supplier of Pneumatic Offset Butterfly Valves in pharmaceutical, chemical, and food industries, a high quality Pneumatic Butterfly Valve supplied by Engimek is used to interrupt product flow (solid, liquid, gas) within the process. The valves used in these industries are usually manufactured according to cGMP guidelines (current good manufacturing practise). Product dependability and performance has created Engimek leading manufactures, supplier and exporter of Pneumatic Offset Butterfly Valves in India. Orders at Engimek are guaranteed fast delivery in India. The main reason being we have an excellent warehousing and storage facilities for both finished and semi-finished goods. They are made ready as per the urgent requirements of the customers.